The Dan Tack Annual Muskie Catch and Release Tournament Announcement
The creation of Save the River's The Dan Tack Annual Muskie Catch and Release Tournament was announced in November 2019, by Jeff Garnsey, president of the Save The River's Board of Directors and vice-president of the Thousand Island Museum and Muskie Museum.
Named in honor of Dan Tack, a long-time seasonal Thousand Islands resident and supporter of many North Country nonprofits, the St. Lawrence River-based tournament will run from now on, for the entire Muskellunge Season (the third Saturday of June through December 15). Muskie are the apex predators in the St. Lawrence River, and the Thousand Islands were once world-renowned for its Muskie fishery. The angler with the winning entry will receive a trophy and have his or her name placed on the custom-designed tournament plaque to be housed at Save The River.
Additionally, Save The River announced changes to their long-running Muskie Catch and Release Program with the goal of giving more anglers the opportunity to be rewarded for successfully catching and releasing a Muskie.
To enter the Dan Tack Annual Muskie Catch and Release Tournament, anglers must successfully catch and release a Muskie on the St. Lawrence River and submit a record of the event by completing Save The River's Muskellunge Release Affidavit along with a photograph of their catch (a photograph is required for entry into The Dan Tack Tournament but is not required for the general Muskellunge Release Award).
Every angler who catches, measures, photographs, and successfully releases a Muskie will be eligible to enter the tournament. The winner of the tournament will be the person who catches and releases the largest fish of the season. Participants will have 30 days after the December 15 close of the season to report their catch.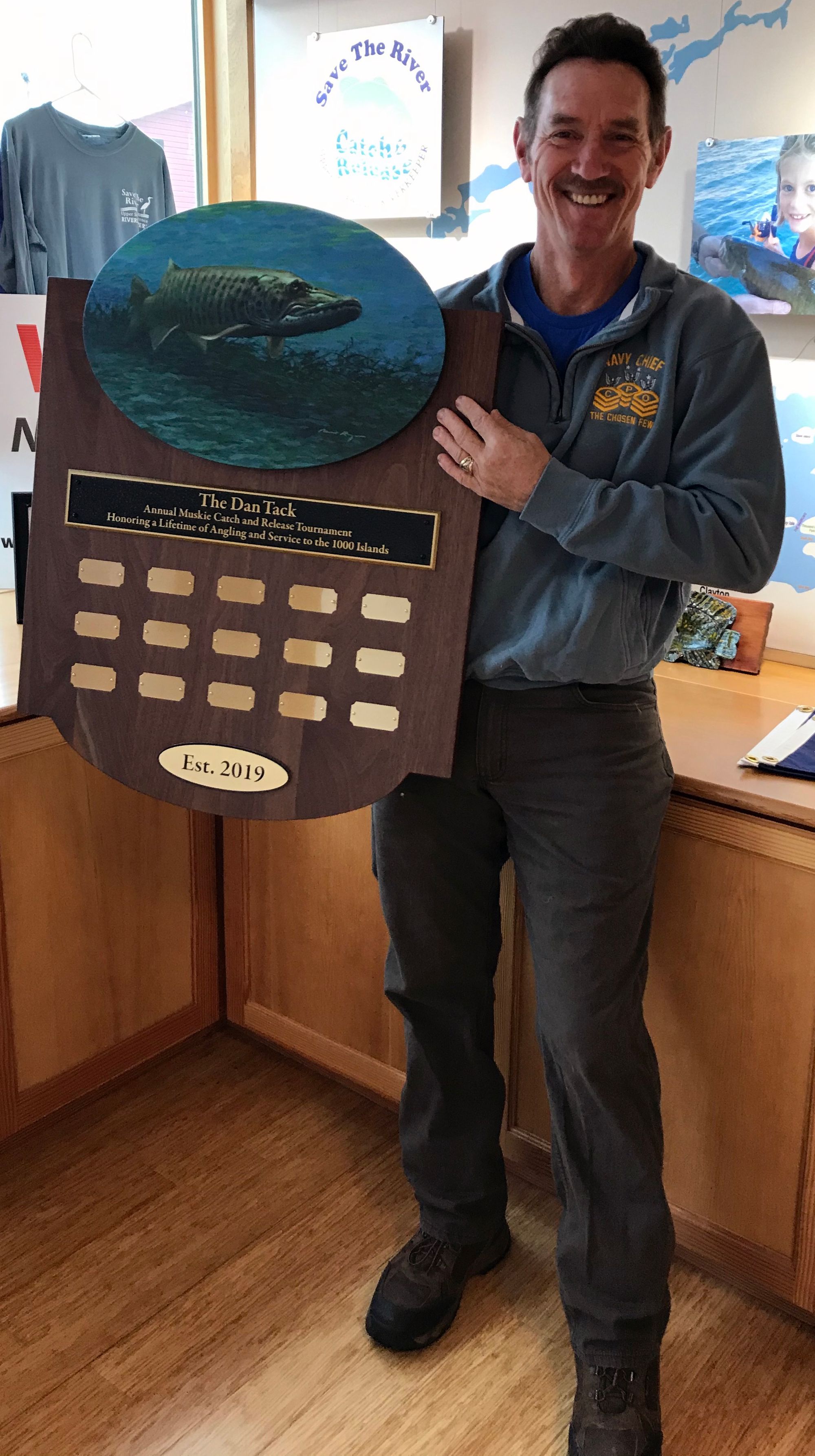 In an effort to reward more anglers, Save The River has made the following change to the long-running Muskellunge Release Award program: all anglers who catch and release a Muskie of any size (previously limited to legal size catches only) are eligible to receive a limited edition 16" x 20" print by renowned St. Lawrence River artist, Michael Ringer. The print, titled Sovereign, is available exclusively through Save The River's Muskellunge Release Award program and cannot be purchased. To receive a Muskellunge Release Award, anglers must complete and submit the Muskellunge Release Affidavit.
Dan Tack
Dan Tack began fishing for muskie onboard his own 1960 Chris Craft Sea Skiff. Dan fished with three generations of Garnsey family fishing guides: starting in the early 1970s with Jeff's grandfather, Roly Garnsey, on his series of boats named Muskie, then with Jeff's father Joe on both his boats, Muskie and Fin and Feather, until Joe's death, and finally onboard Jeff's current Muskie for the past decade. "As early as the 1980s, Dan also realized that our indigenous population of muskies was too valuable to catch only once," said Jeff Garnsey. "We owe him a huge debt in helping to revitalize the population of this top of the food chain apex predator and reestablish the popularity of Muskie fishing."
"Dan Tack was one of the most generous and supportive Thousand Islanders I have had the pleasure to know," said John Peach, executive director of Save The River. "Naming this tournament, which will help us record the catch and release of Muskies on the St. Lawrence, in his honor is a small recognition of all that Dan did for so many organizations in the North Country."